Editor's Note
Unlike other papers analyzing China's economic policy in line with its broader national strategy, Junwei Liang narrows his focus down to China's trade policy and trends. He offers a comprehensive overview of China's trade balances, product varieties, trade partners, regional characteristics, and trade in commodities and services, arguing that China should make more of an effort to use its domestic market and the rising social challenges of a decreasing labor force. Despite global concerns about China's return to a more statist and developmentalist approach, the author offers assurance that China will continue to pursue opening up and deepen its reforms.
---
Quotes from the paper
Introduction
Since the reform and opening-up in 1978, China has witnessed an explosive growth in trade, especially in export of commodity. After the accession to the WTO, the linkage of "Made in China" to the international market has boosted competitiveness of China's products, while more and more conflicts and contradictions between China and trade partners have been emerging vastly and vigorously. The trade policy of the Trump administration against China is quite non-political-friendly, more importantly, a very awful and frightful signal to the global free trade regime. This will pose great challenges on Chinese authorities and companies, even individuals. China will, in the foreseeable future, be continuing implementing reform and opening-up and some critical transformations will be made in a larger and deeper sense, although it might be a long way to go.
China's Trade Development
Figure 1 Trade Value and Share of China: 1950-2017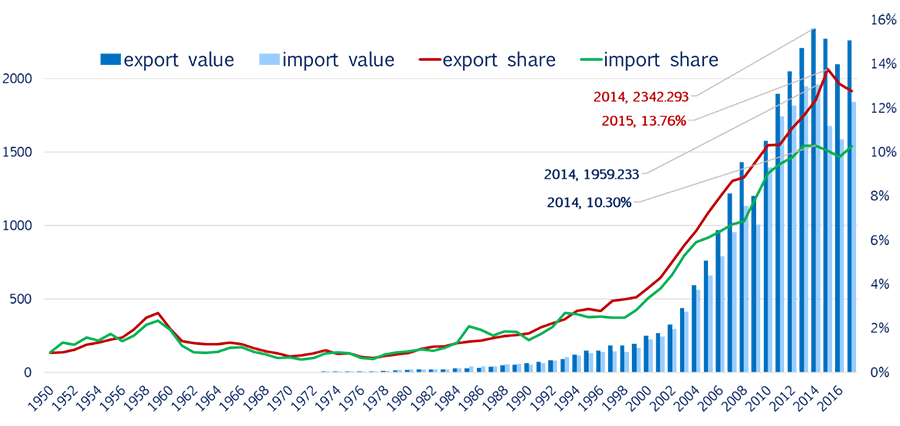 Source: UNCTAD, Billion USD, %.
Figure 2 Trade Balance of China: 1978-2017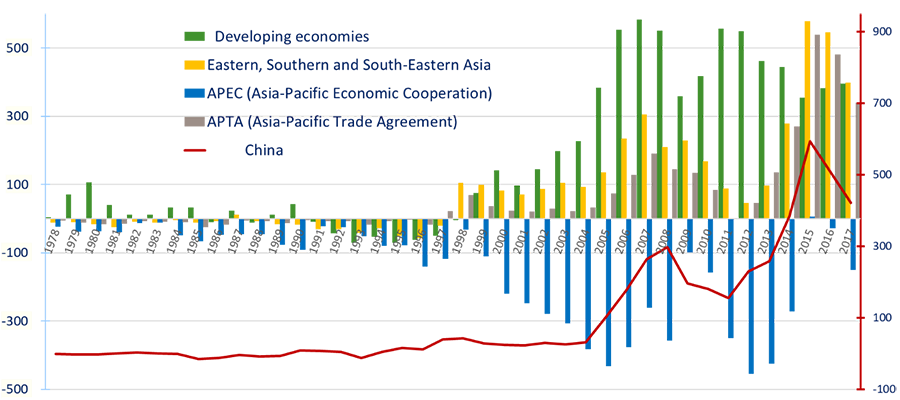 Source: UNCTAD, Billion USD.
Figure 3 Product Varieties of China's Export: 1995-2017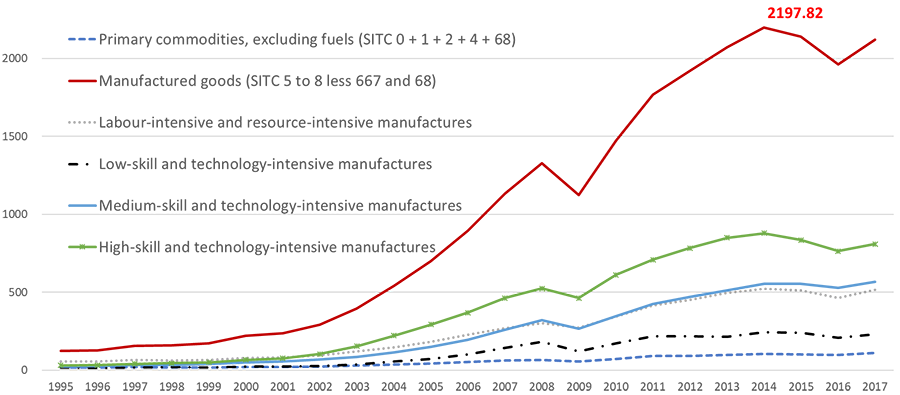 Source: UNCTAD, Billion USD.
Figure 4 Product Varieties of China's Import: 1995-2017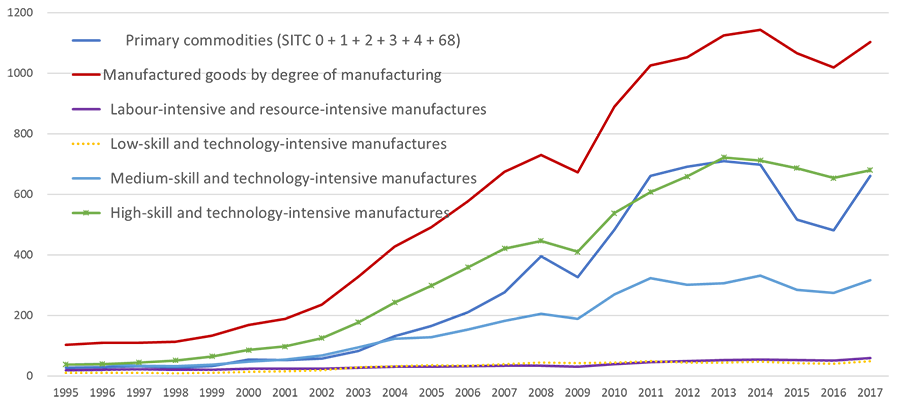 Source: UNCTAD, Billion USD.
Figure 17 Partners of China's Export: Number and Average Value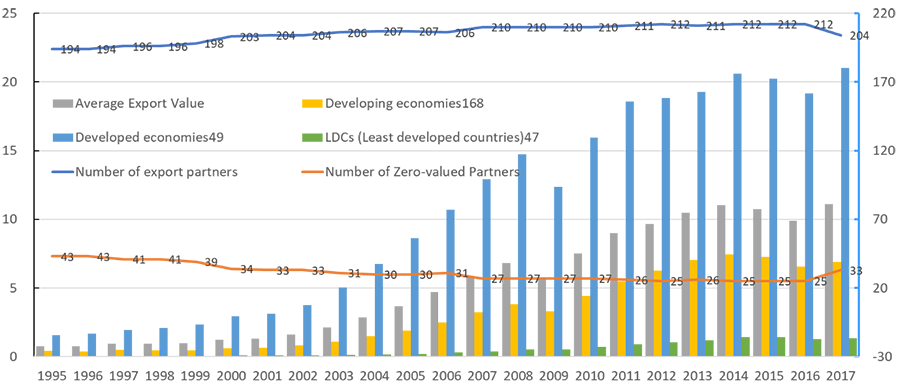 Source: UNCTAD, Billion USD.
Figure 18 Partners of China's Import: Number and Average Value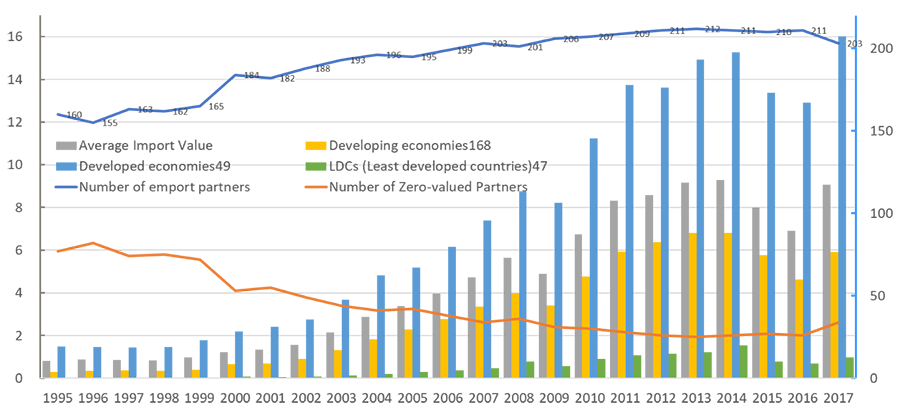 Source: UNCTAD, Billion USD.
Conflicts, Contradictions and Challenges of China's trade
Figure 26 Frequencies and Percentages of Global Antidumping Initiations and Measures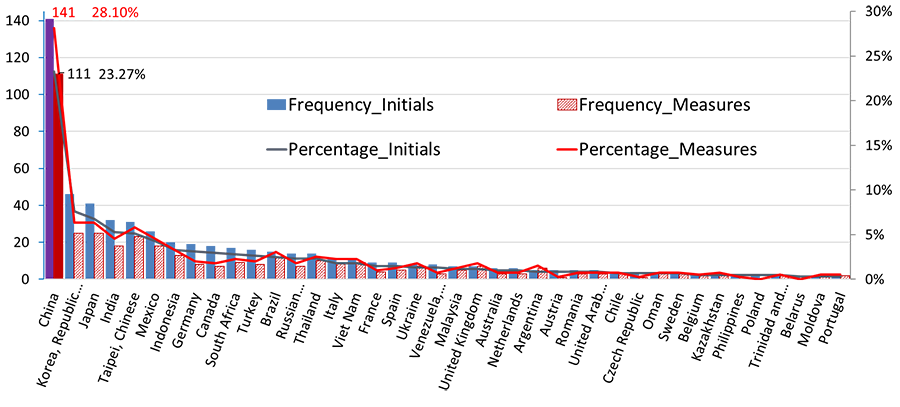 Source: UNCTAD, Billion USD.
Figure 27 The Share of AD Initiations and Measures against China Filed by the World and the U.S.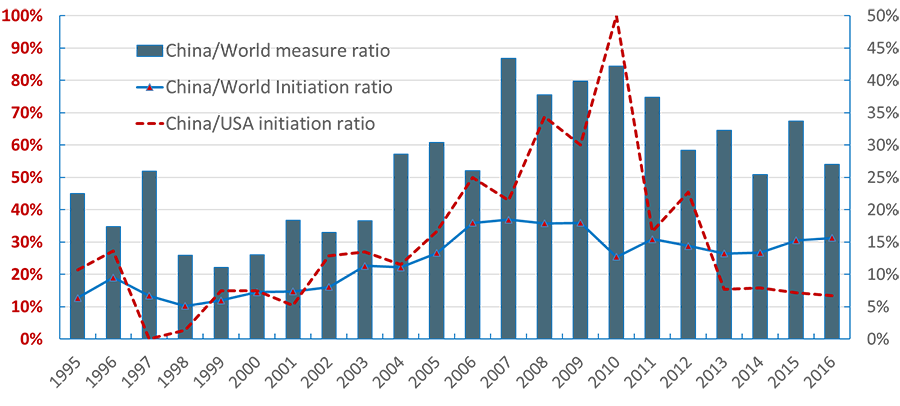 Source: WTO (%)
Figure 28 337 investigation the U.S. has initiated on China and the rest of the World

Source: WTO (%)
China's Coming Transformations in Trade
Reform and opening-up is a great process that has helped China and the rest of the world achieve development and progress together. Opening-up is the path China must take to achieve prosperity and development. President Xi Jinping pointed out that "What has happened proves that opening-up was key to China's economic growth over the past 40 years and in the same vein, high-quality development of China's economy in the future can only be achieved with greater openness." At present, the world is undergoing great development, transformation and adjustment. The road to world economic recovery is hard and tortuous; economic globalization experiences twists and turns; and unilateralism and protectionism are on the rise. These are the challenges that all of the countries are facing. Under the new conditions, China will adhere to its fundamental national policy of opening-up, actively promoting international cooperation under the Belt and Road Initiative, and striving to create a future that is open, innovative, inclusive and mutually beneficial. China will unswervingly promote opening-up on a higher level, significantly relax access to markets, create a more attractive environment to investment, implement high-standard policies of trade and investment liberalization and facilitation, build free trade ports with Chinese characteristics, and make a new ground to pursue opening-up on all fronts.
---
Author's Biography
Junwei Liang was granted a PhD degree from Nanjing University in 2009 and is now an associate Professor at Shandong University. His research is focusing on International Political Economics, including welfare analysis of trade policies and NTMs on China's innovation on firm level. His findings have been published on both Chinese and English journals, such as World Economy, Journal of Quantitative and Technical Economics, etc. He is now the peer reviewer of several leading journals in China.